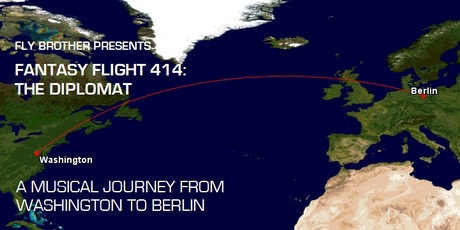 In this episode of the Fly Brother Podcast:
Fantasy Flight 414 - The Diplomat
Journey with Fly Brother on an ethereal, all-music flight from the capital of the free world to the capital of free expression—DC to Berlin—featuring classic soul, house, downtempo, acid jazz, and a little go-go from local musicians and artists inspired by local sounds. Whether its to work out, chill out, or make out, this compilation will transport you each time you listen. Download and get lifted.
Playlist:
"Chuck Baby" - Chuck Brown
"Hot Music" - Soho
"Moving Like a Train" - Herbert
"Rock Creek Park" - The Blackbyrds
"Amerimacka" - Thievery Corporation f. Notch
"Behold These Days (Berlin '74)" - Jazzanova
"Donaueschingen" - Kruder & Dorfmeister
"Souvenir" - Manoo & Francois A.
"Just Like..." - Eddy Meets Yannah
"Din Daa Daa" - George Kranz
Links mentioned in the podcast:
Fly Brother Blog - fly-brother.com
Fly Brother Podcast - flybrother.podomatic.com
Shoot me your comments, questions, suggestions, requests, or just a shout-out: flybrother [at] rocketmail [daht] kom.